Hawaii
|
Inte



rconnection Grade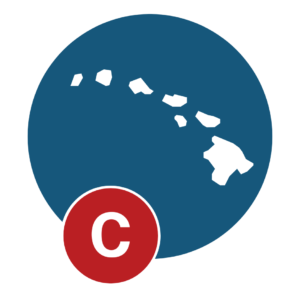 Revise the Initial Review penetration screen to allow for at least 100% of minimum load rather than 15% of peak load




Adopt more efficient timelines for simplified review and the study process within the rules




Incorporate an inadvertent export screen as part of Initial Review




Specify the details that must be provided to interconnection applicants within screening and study results
Note: Freeing the Grid interconnection grades are based solely on the provisions included or referenced within statewide interconnection procedures and do not take into account utility practices or requirements adopted outside of state procedures.
Interconnection policies specify the processes, timelines, and costs associated with connecting distributed energy resources—like solar and energy storage systems—safely and reliably to the grid.
This state's interconnection grade is based on the following criteria:
Facility types and system sizes eligible to interconnect
Updated Standards & Export Provisions
Incorporation of IEEE 1547-2018 and export provisions
Use of simplified and expedited screening processes
Technical screens used as part of expedited review
Facility and distribution system modifications
Supplemental Review Screens
Technical screens used in supplemental review
Timelines specified for review and other processes
Provision of queue, timeline, cost, and site-specific data
Interconnection Costs & Requirements
Fees and other requirements for interconnection
Interconnection-specific processes for resolving disputes
Hawaii Highlight: How Interconnection Regulations Intersect with Implementation
Hawaii is a good example of a state with updated interconnection practices that have not been reflected in the state's interconnection tariffs (i.e., Commission-approved utility documents that specify the interconnection requirements and process). Based just on Hawaii's interconnection rules in its statewide  tariff, the state received a "C" grade, which means that it has adopted some best practices, but should plan to update its rules to streamline and improve the interconnection process. However, utility practices, in some cases, differ from what is included in Hawaii's statewide rules. For example, utility Hawaiian Electric Company utilizes hosting capacity analysis as part of the penetration screen in its Initial Technical Review rather than the 15 percent of peak load screen that is in the tariff.1 If this change in technical screening method had been incorporated into the rules, HI would have received a higher grade. These types of discrepancies between the written provisions in statewide interconnection rules and actual implementation can lead to a lack of clarity and transparency for interconnection applicants, particularly in states with more than one regulated utility, and underscore the importance of having up-to-date rules that reflect current practices and requirements for all utilities.
Noteworthy Best Practices
This section recognizes noteworthy interconnection practices, from among the evaluation criteria. Badges are awarded to the states that meet these noteworthy criteria.
Footnotes